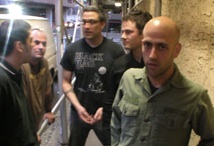 According to this source, influential New Jersey melodic hardcore act Lifetime is planning to reunite for this year's Hellfest.
The band, who saw its members go on to form Kid Dynamite, Zero Zero and Paint It Black, broke up after releasing Jersey's Best Dancers in 1997.
Hellfest is expected to include hundreds of performances from a long list of bands. It will be taking place August 19-21 at the Trenton Sovereign Bank Arena in Trenton, NJ. Other reunions scheduled for the event include metal/hardcore act Coalesce, hip hop pioneers Public Enemy and hardcore acts Bold, Good Clean Fun and Youth of Today.
Update: Jade Tree sent us some information about future releases from Lifetime on the label:

Lifetime's classic albums Hello Bastards and Jersey's Best Dancers, are available on Jade Tree. A collection of early material (7"s, compilation appearances, the Background album, and unreleased material) is tentatively planned for an early 2006 release.