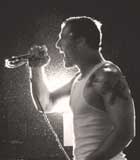 Ignite frontman Zoltan Teglas will be appearing in the upcoming production of The Who's Quadrophenia later this month at The Grove in Anaheim, California.
Teglas will be playing "Ace Face" - the character played by Sting in the film version of the rock opera. "Ace Face" was the chief mod in the story and friend to the protagonist Jimmy, a character with four distinctive "personalities" who struggles to discover his own.
The production itself will take place on November 18th and 19th and was produced by Bill Aucoin, the manager of both Billy Idol and KISS. The quarter-million dollar production also stars Stephen Shareux as Jimmy as part of a cast of twenty-three.
Ignite continues to work on their Abacus Recordings debut, which is scheduled for release in spring 2006.