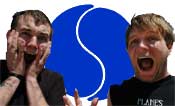 Gainesville, Florida's Against Me! have signed to Sire Records. The band confirmed rumours with a post to their website earlier this evening. They plan to release a new album on the Warner Music Group label in 2007.
The band released Searching For a Former Clarity earlier this year on Fat Wreck Chords. It was preceded by 2003's As The Eternal Cowboy and 2002's No Idea released Is Reinventing Axl Rose. Interestingly, the 2004 DVD release We're Never Going Home detailed the band's courtship by major label Universal and their ultimate decision to turn that deal down. Against Me's past with underground labels like the folk-punk promoting Plan-It-X as well as the heavily anarchistic slant in their early lyrics have made them one of the punk scene's more controversial acts, particularly as their profile and popularity has grown.
Sire Records was co-founded in 1966 by Seymour Stein and producer Richard Gottehrer. The label operated independently for a decade before signing a distribution deal with Warner Bros in 1976. From the late 70s and into the 90s the label was home to the Ramones, Dead Boys, the Talking Heads, the Smiths, the Flamin Groovies, the Replacements, the Cure and many other prominent early new wave and punk acts. In the 90s the label dissolved into Warner Bros and remained silent for a number of years, only to be resurrected in 2002 as a potential home for the Hives after they left Epitaph. While the Hives ultimately signed with Universal, the new Sire imprint, operated by Warner Bros Records / Reprise, became the current home of Less Than Jake, Hot Hot Heat, the Distillers, the Futureheads and others.