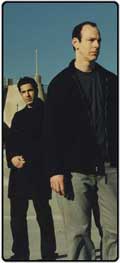 Sources in the studio have revealed to Punknews.org that Greg Graffin's long promised new solo material is progressing. The Bad Religion singer is working with producer and bandmate Brett Gurewitz. Graffin intends to spend just a week in the studio, tracking all material to tape and forgoing digital recording methods.
Three members of Winnipeg's the Weakerthans will be performing as Graffin's backing band on the project. Guitarist Stephen Caroll, drummer Jason Tait and bassist Greg Smith are reportedly participating.
Graffin is also tracking a duet with San Francisco based folk-jazz singer Jolie Holland. Holland has released two albums, Catalpa and Escondia, on Anti- Records and is known for her improvisational performances mixing free form jazz with traditional folk music. She was most recently seen touring in late 2005 with David Gray.
It has been nearly 10 years since Graffin's last solo outing, the Atlantic released American Lesion.