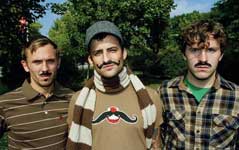 In the second of our combined Video of the Week / Interview, our illustrious videographer Sickboi sat down with The Lawrence Arms' Brendan Kelly to pick his giant brain about their recent full length, Oh Calcutta!.
You can click Read More for the second half of the interview.
You can also take a look at the first half which we posted last week.
Part 2, Chapter 1 Part 2, Chapter 2