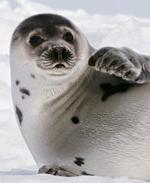 It's Sunday March 26th, 2006. War in Iraq? Pah. Ongoing conflict in Afghanistan? Ehh. Political intrigue in Ukraine? Boring. Paul McCartney and Brigitte Bardot battling sealers in the ice flows of Atlantic Canada? That, my friends, is the conflict of the day. There's something about international celebrities fighting blue collar hunters over the lives of fuzzy white pinnipeds that's just too surreal.
Stories you were talking about this week
The hype machine supporting Tom DeLonge's new act Angels and Airwaves continues to churn, this week with news of their first US tour and a release date for their debut full length. The Alkaline Trio had their early fans salavating with news that they'll be performing their early record Goddamnit in it's entirety on their upcoming tour. Two of Fat Mike's projects made waves this week, as NOFX released the art and tracklisting for Wolves in Wolves' Clothing and Me First and The Gimme Gimmes announced plans to record a western themed record. Anti-Flag and congressman Jim McDermott held a press event this week on their objection to the use of depleted uranium, a topic that shows up on the band's new record as well. Finally a number of upcoming releases turned heads this week, the short list including a live album from Against Me!, Fearless' Punk Goes 90s cover compilation, AFI's upcoming album, the Bouncing Souls' "Gold Record" and Bad Religion frontman Greg Graffin's long awaited new solo recording.
This week we posted the second two parts of a huge interview with Anti-Flag regarding their new record and major label jump. You can check out Part 1 and Part 2 now. We also spoke with Triple Crown act Folly.
Current contests HorrorPops in Canada
Copenhagen's HorrorPops are hitting the road in Canada this April with their Hellcat labelmates Left Alone. We're giving away a pair of tickets to each show on the tour.
Anti-Flag For Blood and Empire contest Anti-Flag will be releasing their hugely anticipated For Blood and Empire soon and to celebrate we're giving away a ton of swag including the band's complete discography!
Win an iPod Nano from Bullets and Octane
Orange County, California's Bullets and Octane are gearing up for the April 11th, 2006 release of In the Mouth of the Young and to celebrate they're giving away an iPod Nano.
Win a ton of swag from No Trigger No Trigger is preparing to release their debut full-length Canyoneer on Nitro Records this March. We're giving away a nice prize pack from the band including records and downloads from DownloadPunk.
Sponsored tours Take Action Tour Matchbook Romance, Silverstein, Chiodos, Amber Pacific, Paramore, The Early November, I Am Ghost and Hit The Lights are among the bands playing this year's Take Action Tour. The Sub City organized event provides support and resources for young people to turn to when in need through the National Hopeline Network and 1-800-SUICIDE(784-2433).