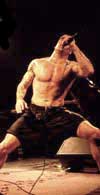 Henry Rollins has reunited his post-Black Flag musical endeavour The Rollins Band. The group formed in 1986 shortly after Black Flag disbanded and released a series of albums before going on a hiatus.
The lineup includes Rollins, original guitarist Chris Haskett, drummer Sim Cain and bassist Melvin Gibbs who joined the band in 1993.
Rollins had this to say about the status:

We have been practicing on and off for months now, slowly getting it together. Today I went in and they were playing Shame when I got there. Today I did Black and White, Volume 4, Civilized, Divine Object Of Hatred, Alien Blueprint, Disconnect. It was all I had time for before I had to sprint to the hotel.

So, we are back together and are planning on getting some shows in by August. Nothing is booked yet. We have contacted all the agents are seeing what's available. It's been really cool being back in the practice room with these guys after all these years. I had a meeting with Theo the other night in Amsterdam for about an hour after the show and he's in 100%. I am looking forward to getting more practices happening.
The band's last official album was the 2002 live release The Only Way to Know for Sure.