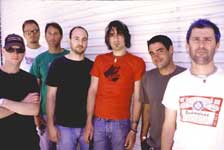 Bad Astronaut has quietly posted some information about their upcoming full length. The band includes Joey Cape of Lagwagon, Marko 72 of Sugarcult, Angus Cooke of the Ataris as well as Thom Flowers, Jonathan Cox and Todd Capps. The late Derrick Plourde, formerly of Lagwagon, RKL and The Ataris, was also a founding member of the seven-piece band.
According to the post, the band will be releasing Twelve Small Steps, One Giant Disappointment before the end of the year. The material was recorded prior to Plourde's passing and represents his last recorded performances.
The album will follow up the band's 2001 release, Acrophobe and 2002's, Houston, We Have a Drinking Problem.
Sources at Fat have confirmed that the album will be released on the label.