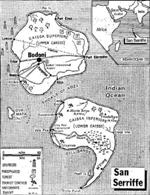 It's Sunday April 2nd, 2006. We didn't think we could pull it off. We didn't think we could avoid the obvious legal pitfalls it introduced. However we succeeded this weekend with an April Fools joke so complete, so subtle, and so perfectly crafted that it not only flew above your heads but the dimmer of you were completely oblivious. We started working on this one nearly 8 months ago and it nearly tore the editorial staff apart, but it worked. Those of you who wrote in that you figured it out on Saturday, we'll be sending you a Punknews t-shirt and a copy of the new Ryan's Hope CD. Those of you that missed it, look closer…
Stories you were talking about this week
Well the rumors were true and influential New Jersey punk act Lifetime signed to Decaydance Records. Guitarist Dan Yemin also addressed the storm of controversy surrounding the pairing. A staunch animal rights activist, former Smiths frontman Morrissey boycotted Canada due to the annual seal hunt. Henry Rollins announced the return of his post-Black Flag act the Rollins Band. An Against Me! article simply can't sneak by without a debate attached, ditto their new video for "From Her Lips to God's Ears (the Energizer)." Bosstone-turned-radio host Dicky Barrett launched a very public dispute with his former home of Indie 103.1 over the fate of his morning show. Both Rise Against and AFI announced further details on their respective sophomore major label albums. The Vandals previously visited Iraq to play for the troops and now they've announced a trip to Afghanistan for that very reason. Finally, details were relesed on the new Osaka Popstar project, which features members of the Ramones, Misfits, Black Flag and Richard Hell & the Voidoids).
This week we treated you to an entire week of interviews. Sunday opened with Folly. Monday was Punk Voter and Anti-Flag collaborator Congressman Jim McDermott, Tuesday was Reggie and the Full Effect, Wednesday featured veteran act the Dictators, Thursday the one and only Ted Leo, Friday metal/hardcore act Zao, Saturday Vagrant band the Bled and finally today's archival 1996 interview with Lagwagon.
Current contests HorrorPops in Canada
Copenhagen's HorrorPops are hitting the road in Canada this April with their Hellcat labelmates Left Alone. We're giving away a pair of tickets to each show on the tour. Enter with your chosen show and we'll draw a winner per date.
Check back later this week for new chances to win prizes from bands like the U.S. Bombs and more!
Sponsored tours Take Action Tour Matchbook Romance, Silverstein, Chiodos, Amber Pacific, Paramore, The Early November, I Am Ghost and Hit The Lights are among the bands playing this year's Take Action Tour. The Sub City organized event provides support and resources for young people to turn to when in need through the National Hopeline Network and 1-800-SUICIDE(784-2433).