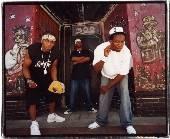 Continuing our series of interviews is our second-ever video interview. In this episode, Punknews.org's sole video camera owner spoke with pop-punk act Whole Wheat Bread.
The interview took place while the band was on the road supporting their debut, Minority Rules. The band will soon release the follow up EP, titled Punk Life.
Please note, some of the interview may be inappropriate for work. Of course, that depends a lot on where you work.
If the embedded player isn't working for you, click here.