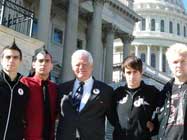 Congressman Jim McDermott's bill to study the effects of Depleted Uranium munitions has successfully passed the house of Congress. Some scientists have argued that Depleted Uranium causes kidney damage in large doses and has proven to cause reproductive, neurological, and immunological harm in mammals. Some attribute "Gulf War Syndrome" to toxicity in the weapon material. The bill simply seeks to study this and make a scientific determination of the effects of the weapon.
To pass the bill, Dr.McDermott took a less traditional route, working with bands like Anti-Flag and speaking to people outside the political sphere. On Monday, the House included language in the fiscal 2007 defense authorization bill requiring a Pentagon study of the health effects of the depleted uranium on U.S. war veterans and their children.
McDermott was quick to give a fair share of credit to the punk band, saying:

Thanks to Anti-Flag's efforts, more than 2,000 young people have signed a petition on behalf of the study. Kids are worried about it. Depleted uranium has long term and very awful effects which these young people can see is going to affect them.