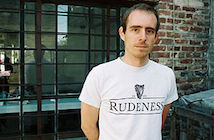 Ted Leo and the Pharmacists have announced a few scattered dates throughout the next few months in addition to the Pitchfork Music Festival. They'll be on the road with the Jai Alai Savant on select dates and will include a stop at the Austin City Limits festival.
The band will also be playing the Touch and Go Records 25th anniversary party with Shellac, Pinback, Calexico and Negative Approach. They recently released two demos for their upcoming release for Touch and Go.
Punknews.org recently spoke with Mr. Leo about his label change and upcoming album amongst other things.
Date
Location
Venue
Also Performing / More information
07-28-06
Lansing, MI
Temple Club
w The Jai Alai Savant, Thunderbirds are Now
07-29-06
Chicago, IL
Union Park
Pitchfork Music Festival
With:Mission of Burma, Mountain Goats,The National;
07-31-06
Indianapolis, IN
Emerson Theater
w The Jai Alai Savant, Red Eyed Legends. 7 pm
08-01-06
Columbus, OH
Little Brothers
w The Jai Alai Savant, Red Eyed Legends. 8 pm
08-25-06
New York, NY
South Street Seaport
w DC Snipers. Free. All Ages.
09-12-06
Memphis, TN
Hi Tone Cafe
All Ages 9pm. $10/$12. Presale begins 6/2
09-13-06
New Orleans, LA
House of Blues - The Parish
18+ 9 pm. $11/$13. Presale begins 6/2
09-15-06
Austin, TX
Zilker Park
AUSTIN CITY LIMITS FESTIVAL
with Ray Lamontagne, Gomez, Stars.
09-16-06
Houston, TX
Walters
All Ages 8 pm. $10/$12.