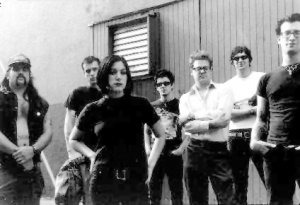 Murder City Devils are currently asking fans to help select a twelve song set list for an upcoming reunion show. In a message posted to their myspace blog, the band's roadie, Gabe asked and mentioned the show itself:

Just wondering what songs people would want to hear, stop by and post your response on the blog.

[This] is not just an exercise in curiosity. Soon to be announced is going to be one show with all members of the Murder City Devils. It will be sometime this summer, and it will just be one show.
The band split up in 2001 after the release of the Thelema EP and In Name and Blood full length. and members went on Pretty Girls Make Graves, Big Business, Dead Low Tide and joke/cover band The John and Spencer Booze Explosion.
Their (last) final performance was issued in 2003 as R.I.P..