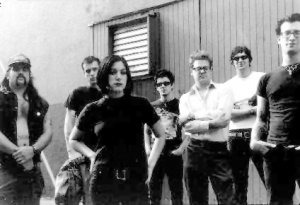 Murder City Devils have announced the details for their recently announced one-off reunion show.
The set will take place on July 29th, 2006 at the Capitol Hill Block Party in Seattle, WA. Also set to appear are Devils "spinoffs" Pretty Girls Make Graves and Big Business who will perform the day before.
The two day festival will also play host to Silversun Pickups, Himsa, Common Market, Big Business, Sera Cahoone, Speaker Speaker, Lonely H, Thee Emergency, The Cops, The Divorce, Macklemore, Math & Physics Club, Kimya Dawson (of The Mold Peaches), Abyssian Creole, and The Tall Birds.and many more. A full lineup is expected on June 15th. Political speakers include Rep. Jim McDermott and King County Councilmember Dow Constantine.
The band split up in 2001 after the release of the Thelema EP and In Name and Blood full length. and members went on Pretty Girls Make Graves, Big Business, Dead Low Tide, Triumph of Lethargy Skinned Alive to Death and joke/cover band The John and Spencer Booze Explosion.
Their (last) final performance was issued in 2003 as R.I.P..