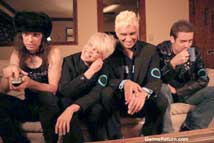 The Germs with original members Pat Smear, Lorna Doom and Don Bolles as well as actor Shane West, have announced their summer tour schedule.
The band is performing without famed vocalist Darby Crash who committed suicide in December of 1980, and is the subject of an upcoming biopic which will feature West playing Crash.
The band has a series of Warped Tour dates and some club dates scheduled, and will be performing for a month starting in July. They continue to perform tracks from their 1993 compilation, M.I.A.. The compilation includes tracks which were produced by Warped Tour tourmate Joan Jett.
| | | |
| --- | --- | --- |
| July 4, 2006 | Warped Tour | Cricket Pavillion, Phoenix, AZ |
| July 6, 2006 | Warped Tour | Coors Amphitheatre, Chula Vista, CA |
| July 7, 2006 | Warped Tour | Fairplex at Pomona, LA County Fair Grounds, Pomona, CA |
| July 25, 2006 | Magic Stick | Detroit, MI |
| July 26, 2006 | Double Door | Chicago, IL |
| July 27, 2006 | Beat KitchenEarly Show!!! | Chicago, IL |
| July 29, 2006 | Bb King's | New York, NY |
| July 30, 2006 | Axis | Boson, MA |
| August 1, 2006 | Le Showcase | Montreal, QC |
| August 2, 2006 | the Reverb | Toronto, ON |
| August 5, 2006 | Black Cat | Washington, DC |