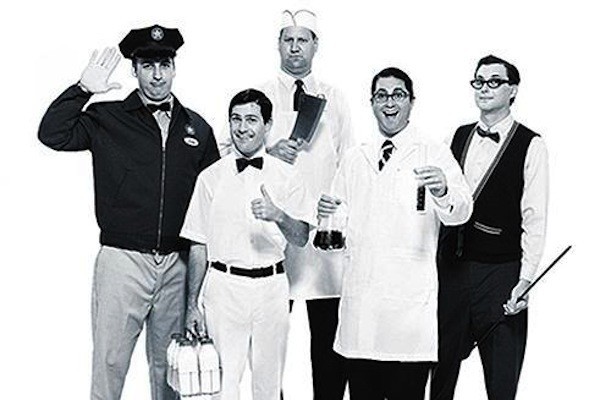 Our South African contributor SceneUpdates recently spoke with Joey Cape, frontman of Lagwagon as the band geared up for their first ever visit to Africa which will happen later this month.
Besides the trip, our correspondent spoke to Joey about the band's recent album, Resolve, future projects including the Gimme Gimmies, Bad Astronaut and more.
Earlier this year, Punknews.org ran an interview with Cape which took place a full ten years ago. and you can find that here.
First of all, thank you Joey for taking time to answer my questions. Fortunately you guys are coming here in a few weeks, so I will base some questions on that. Did you decide to come to South Africa or were you contacted? Fuzigish are bringing you down correct?
I'm not sure. I know Dave Polluck, our friend and European promoter set it up. I just go where they tell me. I'm really excited about this tour.
You are coming all this way only to play 3 shows.
I love the opportunity to travel somewhere I haven't been before and why not do it for free. Basically by playing shows, we pay our expenses and have a great time. It's worth it. Especially if the shows are good. I hope they are.
From what I know, all the shows are over 18 (well at least in Cape Town). Myself, not being 18 yet I was pretty disappointed to find out that there's a good chance I won't be able to see you guys, and this is probably the only opportunity I will get. Any reason why they're 18+?
You are right. I don't know. We have always played only all ages shows. I can't believe that. That really sucks. Find me and I will try to get you in.
So what do you know about South Africa? Are any other bands you know of interested in coming here? I've heard a few Fat bands are interested in coming, care to share some info on any talk?
Maybe our trip there will open up an opportunity for other bands like us to come. I'm sure any band would be happy to play shows there. I want to see Jeffrey's Bay. I don't want to see the sharks though.
Success is worthless without loyalty.
Lets move on to the album, is every song post and based on Derrick's death?
Every song is written about or for Derrick. Only 2 were written before he died. I just decided to say what I had to say in one record. I'm sure I could write three more.
Was the lyrical or musical side done first? Which ever one came second, was there any pressure to have it done because the one side was finished already, or was it pretty much at the same time? I thought this might be one reason for the album being done so quickly.
Usually I write the lyrics last. That wasn't the case with "Resolve". I wrote the lyrics at the same time I wrote the music. I wrote almost the entire album just after his death. In 2 or 3 weeks. I suppose it was fast because it was inspired. It was therapy.
The recording on this album is rawer and being self produced by you guys, personally I prefer it a lot more. Will the next album be like this or are you going to pay Blasting Room Studios a visit?
I think we will self-produce again. It just worked. But Bill and Jason, the Blasting Room guys are making sonically amazing records. I would love to make a record with that punch. We'll see. Of course, it's not entirely up to me.
Why was the video done with lights, camera and action this time round? From what I gather all the others have been pretty much self-done and the albums have been produced better, this time it's a swap around.
I don't know. That's an interesting observation. We did not plan to make a video. When we finished the record the label suggested we make a real video with Justin. We figured we should do it once. It wasn't planned.
On the lyrical side, is it more a representation of your feelings individually or are there ideas/parts which the band asked you to specifically include?
Well I wrote the lyrics so they represent my feelings and reaction to Derricks suicide, but I think I was careful and tried to represent the others thoughts as well. We all spoke on the phone almost daily during that time. A lot of people close to Derrick influenced the lyrics.
If there are, how many B-Sides are there from Resolve and will we ever hear them?
There was only one and it is available on iTunes. It's called "Fallen". I actually think it is better than many of the songs on the record. It just didn't fit. It just seemed to be too poppy for the record. If it had been slower, the melody would have been one of the strongest melodies of those songs.
When the lyrics are darker, more emotional and personal (like on Resolve), is it weird for people to be singing them live with you, but they are doing it in a more positive way because they have no relation to Derrick. Or do people settle during songs like "Resolve". I'm not to sure because I've never seen a Lagwagon show before, so excuse me.
I'm not sure either. But that is a great question. I like all you questions. Thanks for that. With all new material people sing less. It takes a few years before they seem to know all the words, so it still remains to be seen.
So a ton of bands (actually a few mentionables from Fat) are signing to some majors, can you make a promise you won't be going over to the dark side in a few years? What is your definition of selling out?
I believe every band sells out as soon as their recording is marketed and sold but that is how music reaches people. So be it. I never cared how popular a band was or who was marketing or manufacturing a record. I only consider the music. I think it is sad when people have any other criteria to choose their music. It's also sad when music is pure marketing like boy bands. Some bands see a major label as their only chance to reach more people. It is not an absurd argument. We are fine with what we have accomplished. I never desired fame so Fat has been perfect for me. We have had as much exposure as I ever wanted.
Does being in a band pay the bills? What are you plans after Lagwagon? Can you live off the income you've made in a band?
I can now and have been for 10 years. Things will change in the next few years. I don't know what I will do. That's O.K… I have a very good run. I will never complain.
So the new Gimme Gimmes album has been announced, Western covers from what I remember. Care to slip anything more specific?
It is a country record. There is one or two western themes. I really like it. It's my favorite since the show tunes album.
Some bands see a major label as their only chance to reach more people. It is not an absurd argument.
You all have other projects including Gimme Gimmes, Bad Astronaut, Rich Kids etc, do you think this creates more tension in the bands and how do you find the time for everything?
It used to create some tension. We are fine now. I am a musician and all I really want to do is be creative. I imagine I will always have projects other than Lag Wagon.
Do you ever check your MySpace page or did Fat put that up?
I put the Bad Astronaut site up with the help of Chris Rest, L.W's guitar player. I think it is scary but actually it's a great tool for bands to get exposure. I manage the Bad Astronaut MySpace site with a lot of help from a friend from Cape Town named Peter. He lives in London now… Chris manages the Lag Wagon sites. It's been good to alert people of Bad Astronaut's new album. Have you stuck with Fat because they picked you up right from the beginning? At the time was there anyone else who was willing to put you out?
No, it was only Fat, but they were the only label I knew how to contact. I just tracked down Fat Mike and gave him a cassette. We never had a reason to leave. Success is worthless without loyalty. To me, our marriage to Fat is a large part of our success.