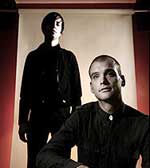 Epitaph has signed Heavens, the new project from Alkaline Trio's Matt Skiba and Joe Steinbrick of F-Minus.
Matt told Punknews.org about the project last year:

I'm also doing a project with Joe [Steinbrick] from F-Minus and our friend Sam and our buddy Ben is producing it. It's kind of got a Depeche Mode kind of vibe. I'm singing it, and Joe wrote all the music. We've got some guest performers coming in too.
The label will be releasing the album on September 12th in North America and September 11th in Europe.
You can check out a song here: "Patent Pending."
Gardens
Counting
Heather
Patent Pending
Dead End Girl
Doves
Another Night
Annabelle
Watching You
True Hate
Leave