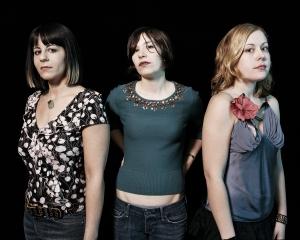 Sleater-Kinney have gone on an indefinite hiatus. The long-running band has been together for eleven years, but has put all recording or touring plans on hold, excepting some shows this summer.
The band offered no explanation, but had this to say:

We feel lucky to have had the support of many wonderful people over the years. We want to thank everyone who has worked with us, written kind words about us, performed with us, and inspired us.

But mostly we want to extend our gratitude to our amazing fans. You have been a part of our story from the beginning. We could not have made our music without your enthusiasm, passion, and loyalty. It is you who have made the entire journey worthwhile.
The band released their Subpop debut, The Woods last year, and saw the album appear on numerous year end lists including this one and this one.