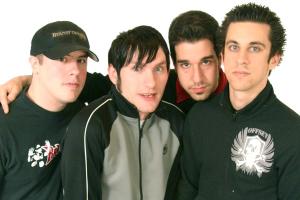 William Jones and nivek82 of Top Welt! sat down with the bassist of Much the Same, Franky Tsoukalas, for a talk about the band's new album, Survive, being released on August 29th. The two talk about the album, what it's title means, Nitro Records and who exactly Franky's favorite band is.
So, you've got a new album out at the end of August now? What can you say about it?
It's been pushed back a few times. It's going to be called Survive. It's going to have 11 brand new songs that we all really, really like and are super excited about.

It's not like I'm not going to be able to buy my new swimming pool because some kid downloaded my album. I can't afford to put water in my bath half of the time. It doesn't matter to me.
It does have a set release date now, of August 29th, but why did it get pushed back so much?
From what I understand, after our album was recorded, there was no official release date. Cameron Webb, our producer, was doing the new Motorhead. It's like, 'What do I do? Do I work on the new Motorhead or mix Much the Same?' Lemmy wins in the end. I'm not sure if that's the official reason. There wasn't an official release date, so there was no rush to get the record done as a whole, so that's why it was continuously pushed back. It sucks, but whatever. It's going to come out, and we're all happy about it.
What was it like working with Cameron Webb?
Cameron's amazing. He's so much fun to work with. He's a really, really cool dude. We did a beer bong in the studio with him. He was mellow the whole time.
Did Cameron set up the backup vocals feature with Zoli from Ignite?
The new Ignite record, Our Darkest Days—he did that. The record's phenomenal and I think people should buy it. [Our song] is called "For Those Left Behind." He's got an amazing voice. I've never met him, but he's got a great voice and a great band. What happened was, Gunner was really sick in the studio a lot, and was having vocal problems here and there. Vocals were taking a little bit longer than we planned. That particular song—there wasn't a lot of time to get the background vocals done. When we got back to Chicago, we got a rough mix of the song and it didn't have any backgrounds. We called Cameron like 'Dude, get anyone in the studio that you think can sing and see what they can do.' He was able to set up Zoli, which was amazing.
It seems like the writing process on this album was really a group effort. I've heard that you wrote a lot of lyrics for these songs, and all three other members have received a lot of credit for writing on this one…
The first CD, Gunner was driving, and we just kind of took turns riding shotgun. This time around, everyone just put their best foot forward. Dan, who isn't credited in the CD as much as he should be, wrote probably 60% of the music for this record. He did an amazing job. Jevin, our drummer, who is also a really accomplished guitar player, wrote a lot of parts—wrote a lot of lyrics. I wrote a lot of lyrics. Gunner wrote songs. This is truly a band that worked on a record, not one guy. This is a Much the Same record. Everybody did everything, and it was really, really cool. It got hard with four people always trying to take the reigns, but I'm very happy that it ended up being that way.
Why is the album called Survive
? Seriously, (I'm not going to lie) this record—the writing process was about as fun as getting kicked in the balls. We were all going through very rough patches, dealing with our own, personal financial situations, losing a member, Mook, who is still a great friend. We love the kid, and he has his clothing company, which is amazing. But we got Jevin in, and we were really adjusting and trying to write new songs. Everyone was going through their own bits of writer's block. Also, we were trying to adapt to a scene that really doesn't want to hear fast, punk rock bands anymore.
How do you see the scene today?
I have nothing against the new bands coming out, but the skate punk scene—the new bands these days are far and few between. You can see that that scene is starting to dwindle. When I went and saw No Use for a Name at the House of Blues recently (one of my all time favorite bands—a great band), there was nobody there. I know if some girl's jeans wearing, eyeliner screamo band was up on that stage that night with one record out, that place would have been fuckin' sold-out. I shouldn't have said that. That was mean of me, but I see a lot of bands these days that put out one record getting lumped into the punk scene, when actual punk bands are getting no credit now. The scene just doesn't seem to want this type of music anymore. It's hard to survive in this, and that's what the record is about. Every song is something that happened to us. It's all very personal and about us getting through it, and that is why it's called Survive.
Do you see any hope for the scene?
The cool thing is, right now, there are so many good, fast punk rock bands that are up-and-coming right now like A Wilhelm Scream, obviously…

It's like, 'What do I do? Do I work on the new Motorhead or mix Much the Same?' Lemmy wins in the end.
…it seems like a lot of the bands being signed to Nitro right now represent what you're talking about.
Nitro's really picking up the ball. That's why I'm very happy to be on this label right now. I love pretty much every band on there—even the bands that aren't punk. I like theStart. I think Wilhelm is great. I think No Trigger is great. Even though they aren't on Nitro, let's face it, Rise Against is amazing. We're just hoping the up-and-comers are going to carry the torch and get a revival in fast punk rock. People are going to start to take notice of it again.
It seems like many of the bands being singed to Nitro right now are friends, with you guys knowing the Wilhelm guys, and they knowing the No Trigger guys…
I'm not going to lie—I think us and No Trigger owe a huge, huge thank you to A Wilhelm Scream for helping us out. They basically went to bat for us at the label. They were the ones that were, "Look. Please listen to these bands." That put us on the forefront. We owe them the world. They're great guys, great friends, and they make an awesome beer coozie, which I'm using right now and I'm proud of it. A lot of the Nitro bands are pretty tight. We just recently got to go out for a couple days with No Trigger and hang out with those dudes. They're just the tops. I really think you should buy their record; it's called Canyoneer. If you like Good Riddance or Rise Against, it's definitely worth checking out.
It definitely seems like Nitro is heading in a new direction. Being a Nitro band right now, do you have any insight into why this might be?
One thing that Dexter was saying (that I heard before) was he wanted punk bands. That's what Sean [Nitro A&R] told us, "He was like, 'get us some punk bands—just straight up punk bands. That's what I want to hear put out.'" That's what's going on. That's all I really know. I met Dexter for about 10 seconds. Nice guy. He makes his own beer. He also makes his own hot sauce, which I didn't have the pleasure of tasting, but it's called Gringo Bandito. It's supposed to be awesome.
What was the experience of being out in California for the recording like?
They took care of us while we were out in California. It was very nice. They took us out to eat a lot—made sure we were well fed, because we're all poor bastards who work jobs besides doing what we do. They took care of us, fed us, and got us wasted, along with all of our good friends out there who took care of us.
As we've talked about on this show a few times, you recently played a secret basement show that we attended with Rise Against. What was the experience like?
Besides the fact of playing that show, that's the best show I've ever been to. I love Rise Against. They're not my favorite band (sorry guys if you ever hear [/read] this), but you did put on the best show I've ever seen. That was my favorite show I've ever been to. My old favorite, when I was 14 years old, I went and saw Less Than Jake and Mad Caddies at the Metro, and that show was fuckin' incredible. This one blew it away. It was so amazing to see them in such a small atmosphere, and they played so many new songs. We have to thank Nick Bukkake and Sam Bukkake, otherwise known as Sam Laketek. The Bukkake's are two people out in Palatine, IL, who really embrace what the punk rock scene should be about. They have these amazing basement shows in their house and charge the bare minimum for people to get in. The money they make goes the bands, and they're completely amazing people. They're not just like business friends as far as they put on shows, we play them.
Label mates Hit the Switch are now planning on releasing their new record free of charge through iTunes. You once told me to just burn a copy of your first CD instead of paying for it at the merch table. How do you feel about illegal downloading in today's music age?
I want money, of course I want money, but let's face it, kids are going to go out there and download it. I'm not trying to say our band is huge and people are going to go download our record because they want it, but it's going to happen here and there. What are we going to do? Bitch about it? It's not like I'm not going to be able to buy my new swimming pool because some kid downloaded my album. I can't afford to put water in my bath half of the time. It doesn't matter to me. With Hit the Switch's record going up online the way it is, I think they are just the first in what is to come. Eventually I think that CDs are just going to be a thing of the past. You're going to download your music all of the time. I think it's a great thing.

The scene just doesn't seem to want this type of music anymore. It's hard to survive in this [scene] and that is why [the record] is called Survive
It seems like for a band at your level, spreading the music around just attracts more people to the shows…
Well, if you guys ever read the back of the Quitters Never Win CD, it says 'Unauthorized duplication makes you punk rock.' That's the way we feel. As long as people hear the music and come to the shows, that's all we really want at the end of the day. We want to play guitar and sing with friends. That's really it.