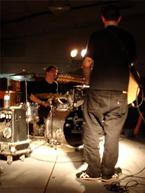 I'm quite pleased to be bringing you a full stream from some gents who are sure to be on everyone's mixtapes come next year, O Pioneers!!!. Black Mambas, their followup to …Like We Care About The Wolves, is due out…well, it's not quite apparent if it's due out or if it's already out but regardless of little details like that we've got it here at Punknews.org, streaming for your pleasure. We do know for sure that it's being put out by Team Science Records, however.
So head over to the band's Punknews.org band profile to launch the player and get down with your bad self. I know I am.
If this isn't enough to sate your streaming music hunger you can go to the Punknews.org Music page and stream songs and albums from over 50 bands, including Take My Chances, Rollo Tomasi, Dead To Me, Park and the Marked Men.