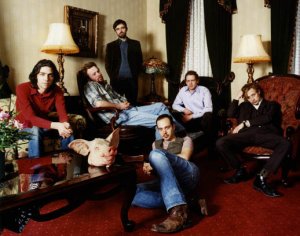 Pitchfork Media recently reported through an exclusive interview that the Deadly Snakes are breaking up. The band's multi-instrumentalist Maxwell McCabe-Lokos had this to say about the break up:

"The main reason is that it's been like 10 years and…it's not fun like it used to be and it's not enough of a career to justify the lack of fun that we're having. It's not excruciating by any stretch, but I think that we're all getting a little tired of going on tour and playing in Ozona, Texas for two or three people. Some people can do that until their eyes fall out. I think we went about as far as we could with this band…and we're all still friends and the main thing is that we were friends before, and we wanted to remain friends after, so we decided to call it a day."
The Deadly Snakes' debuted with Love Undone, released by famed indie Sympathy For The Record Industry and produced by Greg of the Oblivians. It featured a sound inspired by the Stooges and Ramones. The group continued along this path with their In The Red released I'm Not Your Soldier Anymore in 2001. 2003's Ode To Joy however saw the group taking a rootsy turn, eschewing punk speed for a loose pastiche of styles and sounds. This approach was further embraced with 2005's Porcella (which Punknews.org recently took an in-depth look at). Frontman Andre Ethier has just released his second solo album Secondathallam on Paper Bag Records.
The band plans on playing their final show at Toronto's Horseshoe Tavern on August 25.