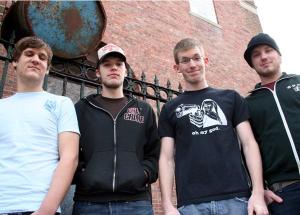 With rumors of a label signing and their first major tour, William_David thought it was about time someone sat down with Fenton, Michigan's The Swellers. In an interview with brothers Nick (lead vocals & guitar) and Jonathan (drums & backup vocals) Diener, the guys came clean about their rumored Nitro deal, as well as an upcoming tour of Japan and the experiences from being on the road for the first time.
To begin, you guys just finished a major month long tour of the US. Was this the biggest tour you've done thus far?
Nick: Yeah, before this tour, all we had done was a week of Warped Tour last summer.
How did this one go?
Jonathan: It was awesome—definitely a great first tour. Obviously we didn't play huge places or have sold out shows, but it was a great experience. We focused on playing in smaller towns, and each of those shows had a great amount of kids. Nick: We ended up not hating each other by the end of it, so I guess that meant things went well.
I know you guys were filming portions of the tour; did you wind up with much good material?
Jonathan: We had footage of Max from Near Miss in his boxers, sing-a-longs at a party in Omaha, and Nick saying vulgar things to kids in South Dakota…then the camera broke. [Laughs] And us playing some shows…obviously. Nick: It's Lance's fault everything broke.
Did you lose all the footage, or just were unable to get anymore?
Nick: We still have that footage, but then the zoom got stuck and we couldn't really film anymore. Jonathan: But I zoomed in on an Antelope in Utah for a while. It could have been sweet, but no! Lance's camera had to ruin our DVD.
Were there any plans for the footage, a blockbuster DVD or something, or even releasing videos online, or was it just for personal use?
Jonathan: We were planning on having George Lucas put it out; you know—add some cool lasers in the background.
[Laughs] You're all vegetarians, right?
Nick: No, just Jonathan and I. I'm actually vegan; Jonathan is vegetarian. Jonathan: Garrett and Lance love fishing, and talk about it a lot. We make them uncomfortable when they talk about it. It's fun.
Was it hard finding good food for the month you were on the road?
Nick: I pretty much lived off of bean, rice, and guacamole burritos from Taco Bell, or Qdoba Mexican Grill whenever I had money. The guys also convinced me to try subway, and I fell in love. Spaghetti is really good and cheap to make when you get to stay at someone's house, too.
How did you guys occupy your down time on tour?
Jonathan: For the most part we would just sit on our laptops and check emails, Myspace stuff, and work on booking the rest of the tour. If we weren't with our computers, we would go around the town, or play Guitar Hero if someone had it.
Any particularly interesting experiences in any towns?
Nick: Well, we figured out Ashdown, Arkansas is called Ashdown because ashes come down from the paper mills in town onto the town. We couldn't tell if it smelled like horrible, horrible pollution, or sauerkraut. They informed us it wasn't a good thing for your body. Jonathan: And we learned that you don't walk into Sonic, you are supposed to drive up to it. People gave us strange looks.
When I saw you guys live, you were ¾ shirtless. Would you say you're exhibitionists? (Joking of course)
Nick: When we're playing a poorly-put together show, we're still going to give it our all…but we needed to find a way to entertain ourselves…and you saw it first hand.
There were pictures in your tour blog from a show inside a bookstore; how was the turnout and what was that experience like?
Jonathan: That show was very hot, cramped, and only a few people showed up to watch us. But the Blackout Pact was there hanging out with us, and they're always fun to be around. Nick: We had to share equipment with all of the bands because there was nowhere to put our stuff, and our merch was outside. I think we sold a pin.
Anything you've learned from this first big tour that you'd want to share with new bands?
Jonathan: Remember to think realistically, because all the shows you play can't be amazing. You have ups and downs. When things go wrong on tour, try to have fun with it for good stories later on.
Recently, on messages boards, rumors of signing to Nitro have been appearing. Is there any truth to these?
Nick: The truth is—we were signing to Nitro. After 9 months of negotiating and reviewing the contract, and waiting for Jonathan to turn 18 for it to be a legal signing, Nitro called us up to tell us they can't sign anymore bands this year. So now, we're just focusing on our next record and touring. Jonathan: There are no hard feelings between the people at Nitro and us. We're friends with a good chunk of the bands, too.
What are your plans now that this has fallen through?
Nick: We're still looking for a bigger indie-label that can work as hard for us as we will for them, but until then, we're going to keep doing our thing with Search and Rescue Records. But hey, if we get picked up before our next record comes out, that's sweet, too. But Jon at Search and Rescue is the man, for real.
In 2005, you released your EP, Beginning of the End Again, on Search and Rescue records; what is your current standing with them?
Nick: I think they said we're the best band ever to be on their label. Or wait, Chiodos was…dammit.
But are you under any kind of contract to put out more with them?
Nick: Yeah, we have a couple more records with Search and Rescue, but the whole point of the label is to get us out there, touring, and eventually signed to another great label that can take us further.
So they're cool with you leaving if you get picked up by something bigger?
Nick: Totally. They're not uptight like most small labels. Jonathan: Getting on a bigger label benefits everyone, so Search and Rescue is down.
Cool, Nick, you filled in with A Wilhelm Scream after Cobra took off; how long did you have to learn all their stuff, was it difficult, and overall, what was the experience like?
Nick: It was amazing to tour with those guys. They're one of my favorite bands, and great friends, so I had a blast. It was my first real taste of touring, so it got me prepared a bit for life on the road. I had 24 hours to learn their whole set, but I kept learning as the tour went on.
Did you get a lot of shameless Swellers plugs in?
[Laughs] I only talked about The Swellers when asked…but Wilhelm gave us props a few times
I've also heard rumors of a Japan tour and possible label things going on over there. What's going on with that?
Nick: We put out our EP over in Japan with Radtone Music, and things are going well, so they invited us over to do a short tour there at the end of October. We've heard it's an awesome time, so we can't wait! Jonathan: We heard that our album outsold Coheed and Cambria and Underoath's new records in Japan. That's ridiculous.
So the Japanese just like good music, I guess?
Jonathan: [Laughs] Well, it's not about image (snakebite piercings and cool hair) as much as it is music.
Awesome, obviously, Michigan has some notables such as Suicide Machines and Mustard Plug, but specifically, what is the music scene like in the Fenton/Flint area?
Nick: The music scene in the Flint area is usually pretty thriving, but it has its ups and downs. The all-ages venue here, the Flint Local 432, is where we got our start, and bands like Mustard Plug and the Suicide Machines have been playing there for years. Jonathan: We all worked there for a year or two, and we're friends with everyone in the music scene there. The Flint Local is changing buildings right now, so the scene is kind of a mess for the time being. I guess we were spoiled with having an amazing all-ages venue with a good sound system, then going to hall shows again.
The two of you are brothers. How did you get into music, specifically the brand of punk you listen to and play, and how did you learn to play?
Nick: We started playing drums and guitar when we were 9 and 10, and around the same time, our cousins showed us a lot of punk and ska bands. Jonathan: We loved Goldfinger, NOFX, Less Than Jake, and I was really into Millencolin. I learned how to play punk drums from listening to Pennybridge Pioneers when I was in 6th grade I think. It took us a while to realize we wanted to play the type of music we listened to.
How did you wind up drawing in Lance and Garrett and becoming The Swellers?
Nick: We started our first couple of bands to play talent shows in middle school and stuff, but when we started high school, we formed The Swellers. Jonathan: We started as a 3 piece, then added a guitar and had a few lineup changes. We were friends with Garrett and Lance for a long time, and they were actually both fans of our band. Eventually we asked them to try out and they ruled. Garrett played bass and Lance played guitar in their old bands…then they switched instruments.
How does the writing process work within your band?
Jonathan: Nick used to write the songs and teach them to us. Then for the last EP and the new record we're writing currently, Nick and I have equal part in songwriting for lyrics and music. Nick: We usually write the music first and the melodies, and add lyrics later, but for the new record, it will be all over the place, and there isn't a set 'process'.
A lot of fans notice a shift in style from your first album to the EP. I had a chance on the tour to hear some of the instrumental parts to the new songs you've been writing and it sounds like another shift. What direction is your music headed in, and does it worry you at all to keep switching it up?
Nick: We just write whatever we think sounds good at the time. That and we get better with songwriting and arrangements and as musicians. We wrote the first release when we were 14 and 15—the EP when we were 16 and 17… Jonathan: We've always listened to fast, melodic punk rock, mainly No Use For A Name, Lagwagon and all the Fat Wreck Chords stuff. That was actually the only music we would listen to for a really long time and shut out everything else. In the past few years, we've learned to appreciate music for its structure, melodies, and catchiness. I guess that comes with being a musician. Now we listen to more types of music, and it'll definitely show on the record. Our new stuff is melodic, all tempos (still a lot of fast, but not ALL fast), and a lot more dynamic than before. Not to mention there is a lot more going into the lyrics this time around. Everything has definitely matured.
The last of your barely legal members just crossed the 18 threshold. Has your young age caused any complications with school, touring, or just being taken seriously as a band?
Nick: We had to wait for Jonathan and Lance to graduate high school this year before we could start touring full time. It isn't a problem now that we're all out of school for good. The only trouble we ran into was playing 18+ shows when the guys weren't 18 yet. Jonathan: Big, bald, metal-bar security dudes are not fond of 17 year olds. Even now that I'm 18, people think we're kids if we're not 21. We'd rather be playing all-ages venues, instead of playing for 10 drunk dudes at a 21 and over bar show.
How far along are you with new music and what are your release plans, provided the ideal label is there to support you?
Nick: We have a good chunk of new songs for the record ready and we'll be recording it in November at Sentient Studio in Chicago. It'll be out sometime early next year. Who knows what label it'll be on for sure, but really, who cares—we just want to tour.
What are the future plans for the band? Is this a hopefully lifetime career for all of you, or just something to have fun for the time being
Jonathan: We hope to make this last as long as possible and have it still be fun down the road. Bands like NOFX, Lagwagon, and The Bouncing Souls have been together for a long time and they're still touring and writing new records. I want to get to the point where we have a solid fan base wherever we go, and we have the same feeling as we do now about music without getting bitter and burnt out. By being a band, we're able to do things and go places that some people can't even dream of—why would we want normal jobs? Nick: I don't think we're fit to live normal lives—we're weird.
How can people check you out if they're interested?
Nick: Our Myspace site usually stays the most up-to-date: www.myspace.com/theswellers Hit us up!