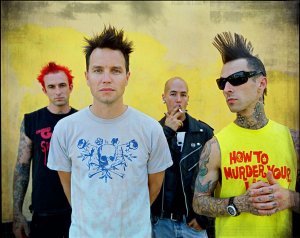 Blink-182 fansite b182.com recently spoke with Plus 44's Mark Hoppus. Hoppus, also the former bassist of Blink 182 promised the site a "Tell All" interview, and discusses the break up of Blink-182, as well as the recent additions of Craig Fairbaugh (ex-Lars Frederickson And The Bastards/Transplants/The Forgotten) and Shane Gallagher (the Nervous Return) and the departure of Carol Heller.
In regards to Blink 182, Mark explained:

Later on, Tom started saying he DIDN'T want to tour, that he was burned out and wanted to stay home. He wanted to cancel the tour. […] We understood that Tom wanted to be with his family. We all did. We all love our families and want to be with them. At the same time, this is our job. We are so lucky to get to do what we do the way we do. We love our work and want to be out there doing it, and it was being taken away from us. We had no say in it. blink-182 has been a democracy since day one, and toward the end there it wasn't. it was all about one person. it felt ugly. it really did.

Tom was deciding when we would tour, how we would tour, when we would have time off, when we would record, and how we could record. One person was dictating everything. […] Tom didn't even call to quit the band. He had his manager do it for him.
And as far as the Plus 44, while it was originally promised as a largely electronic act, the band began writing as a "rock band" with electronic elements which, may lead some to draw some parallels to Blink 182, which took a similar approach.
Mark even talks about his former bandmate's album, We Don't Need to Whisper and echoes some of our own review:

The rest of the songs on the album seemed long and repetitious. It seemed like there were some good ideas in there wanting to come out, but it never got to where it needed to go. For me, I have always loved the honest simplicity and beauty in Tom's music and lyrics. This new album seemed forced and self-important.
For the entirety of the very comprehensive interview, you can visit this page.