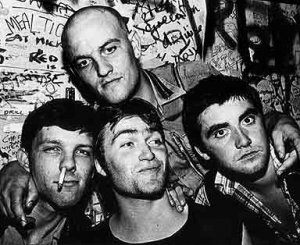 In a recent update to the band's website, longtime Angelic Upstarts frontman Thomas Mensforth announced he was leaving the band. Mensi, as he's known to fans, founded the four piece in South Shields, North-East England in mid 1977. In all of the group's incarnations since, he's been the constant. It does however look like the Upstarts will continue on for at least the immediate future with Chris Wright filling vocal duties. From the statement:

"Where do I start ? I am resigning from the band, I don't have one particular reason, I have many. Some are very personal, others are not. My health has not been at it's best lately, then to cap it all, certain promoters accuse me of planning my sickness. Sometimes I feel as if I'm pissing against the wind. I'm pissed off with the moaners. I have lost the heart to do it.

For the shows that have been booked I will have my good friend and comrade, Chris Wright to stand in for me. I will say goodbye to my true fans by doing a couple of local shows. I will do these shows for a very minimal amount. I wont take any money personally, just expenses for rest of the lads. I will make it on a Saturday night and I will try to hire a place for the weekend, so that anyone who travels any distance can bring a sleeping bag and crash on the floor of the venue. That's if anyone gets any sleep as I want a damn good piss up. As soon as I am fit and well I will start looking for a suitable venue and give everyone as much notice as I can. Please give little Chrissy Wright your support.

I want to thank you all for your support. I have had 30 good years, met some ace people on the way and maybe when the statue of limitations runs out I can tell the full story. The band was a big part of my life and I loved it. It's just maybe we tired of each other.
Anyway, enough of this sentimental bollox."
Your truly, Mensi
Sunderland till I die and anti-fascist till I die xx.
It remains to be seen in the Angelic Upstarts will continue following Mensi's farewell performance.