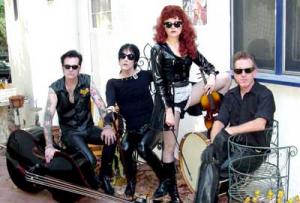 Legendary band, The Cramps have announced a short tour through the West Coast set to kick off in later October. The infamous band will be joined on the tour by Detroit's Demolition Doll Rods.
Formed in New York City in the spring of 1976, The Cramps combined instrumental rock, surf, psychedelia, and sixties punk/garage with a challenging sexualized image. Their most recent album was 2003's Fiends of Dope Island which was followed by the rarities compilation, How to Make a Monster.
. Those unfamiliar with the band could check out the Alex Chilton-produced Songs the Lord Taught Us which is widely heralded as a classic of the genre.
August 27
Sunset Junction Street Fair
Los Angeles, CA
Sunset Junction Street Fair
September 3
Avalon
New York City, NY
Motherfucker Labour Day Fiasco
October 24
House of Blues
San Diego, CA
Demolition Doll Rods
October 25
Key Club
Morongo Cabazon, CA
Demolition Doll Rods
October 29
Catalyst
Santa Cruz, CA
Demolition Doll Rods
October 31
Fillmore
San Francisco, CA
Demolition Doll Rods
November 2
House of Blues
Las Vegas, NV
Demolition Doll Rods