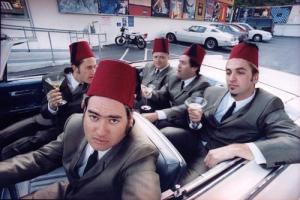 With their upcoming album, Love Their Country set to drop later this year, Me First and The Gimme Gimmes had been scheduled to perform three shows in Pittsburgh, PA while their baseball team, the Pirates battles the Astros.
The show was a homecoming for vocalist Spike Slawson who grew up in Shadyside, Oakland and Point Breeze and sadly, the crowd did not respond well to the band's lighthearted take on so-called classic material. Spike had this to say:

There's a fine line between irreverence and lampooning,and [the Gimmes] kind of ride that line. It's not supposed to be a homage -- that's not what we do. 'Stairway to Heaven' is, like sacred, though, and everyone started booing. I felt it in the pit of my stomach. That's the most people that ever booed me in my life.

It was an obscene amount of money for the amount of work we did, so I can't complain. We're a punk band. Getting booed by a sports crowd makes us viable.
Even though the band's appearances have been cancelled, Pirates fans are still upset about the skewering of thirty-five year old alledgedly satanic material with irate baseball fans referring to the band as "lousy" and "tone deaf [and] devoid of all but the most minute traces of harmony and rhythm."
This is a strong counterpart to the band's usual reaction, which has been extremely positive both on record and in their live shows.
Another fan of the band corresponded with the ball club's promotions department who explained:

Last night, everyone enjoyed a tremendous ballgame & a spectacular fireworks show. We also included a live band that we thought would be a good addition to the show. Unfortunately, we missed the mark.

Because of this, the live band will not be a part of tonight's or tomorrow night's performance. We sincerely appreciate our fans feedback & take that into great account in everything that we do."