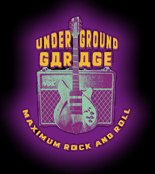 Little Steven's Underground Garage is throwing a travelling festival this September dubbed the Rolling Rock and Roll Show. The event will feature Colin Blunstone and Rod Argent of pioneering of 60's British Invasion / psychadelia act the Zombies, modern garage rockers the Mooney Suzuki and the Woggles on all dates. The west coast will see appearances by Phantom Planet, the midwest features the Gore Gore Girls, the east cost the Fleshtones and the south will include the Forty Fives. The show kicks off on September 5th and runs into October.
The event's been described to Punknews.org as "pretty much a live version of the radio show: Short sets, go-go girls in between bands, psychedelic lights, the whole shebang." If you want part of that that shebang, check below. We're giving away two pairs of tickets to the Wednesday, September 6th show at the Avalon in Hollywood, CA. There you'll be able to check out the Zombies, Phantom Planet, the Mooney Suzuki, the Woggles and the Holograms.
The Prizes
2
winners will receive:
A pair of tickets to the September 6th date of Little Steven's Rolling Rock and Roll Show
Rules
Open to you if you can get there.
To enter, please use the form below.
Punknews.org will only contact you if you win.
You also give us permission to use your first name and city when announcing the winners.
If you're under 13, you have to have your parent's permission.
All entries must be received by September 3rd, 2006 at 12:00 A.M. EST.
Please enter only once.
Contact Information

| DAY | DATE | CITY | VENUE | WITH |
| --- | --- | --- | --- | --- |
| Tue | 09/05/06 | Solana Beach, CA | Belly Up Tavern | With the Zombies, the Mooney Suzuki, the Woggles, Phantom Planet |
| Wed | 09/06/06 | Hollywood, CA | The Avalon | With the Zombies, the Mooney Suzuki, the Woggles, Phantom Planet |
| Thu | 09/07/06 | San Francisco, CA | 12 Galaxies | With the Zombies, the Mooney Suzuki, the Woggles, Phantom Planet |
| Sat | 09/09/06 | Seattle, WA | El Corazon (Formerly Graceland) | With the Zombies, the Mooney Suzuki, the Woggles, Phantom Planet |
| Tue | 09/12/06 | Minneapolis, MN | Fine Line Music Cafe | With the Zombies, the Mooney Suzuki, the Woggles, Gore Gore Girls |
| Wed | 09/13/06 | Palatine, IL | Durty Nellie's | With the Zombies, the Mooney Suzuki, the Woggles, Gore Gore Girls |
| Thu | 09/14/06 | Detroit, MI | St. Andrews Hall | With the Zombies, the Mooney Suzuki, the Woggles, Gore Gore Girls |
| Fri | 09/15/06 | Cleveland, OH | Beachland Ballroom & Tavern | With the Zombies, the Mooney Suzuki, the Woggles, Gore Gore Girls |
| Sat | 09/16/06 | Buffalo, NY | Town Ballroom | With the Zombies, the Mooney Suzuki, the Woggles, Gore Gore Girls |
| Mon | 09/18/06 | Cambridge, MA | Middle East Club | With the Zombies, the Mooney Suzuki, the Woggles, the Fleshtones |
| Tue | 09/19/06 | Mashantucket, CT | Foxwoods Casino | With the Zombies, the Mooney Suzuki, the Woggles, the Fleshtones |
| Thu | 09/21/06 | New York, NY | Irving Plaza | With the Zombies, the Mooney Suzuki, the Woggles, the Fleshtones |
| Fri | 09/22/06 | Atlantic City, NJ | Borgata Hotel / Casino | With the Zombies, the Mooney Suzuki, the Woggles, the Fleshtones |
| Sat | 09/23/06 | Philadelphia, PA | Theatre Of Living Arts | With the Zombies, the Mooney Suzuki, the Woggles, the Fleshtones |
| Sun | 09/24/06 | Washington, DC | Black Cat | With the Zombies, the Mooney Suzuki, the Woggles, the Fleshtones |
| Tue | 09/26/06 | Charleston, SC | Music Farm | With the Zombies, the Mooney Suzuki, the Woggles, the Forty Fives |
| Wed | 09/27/06 | Atlanta, GA | Variety Playhouse | With the Zombies, the Mooney Suzuki, the Woggles, the Forty Fives |
| Thu | 09/28/06 | Tampa, FL | TBA | With the Zombies, the Mooney Suzuki, the Woggles, the Forty Fives |
| Sun | 10/01/06 | Fort Lauderdale, FL | TBA | With the Zombies, the Mooney Suzuki, the Woggles, the Forty Fives |