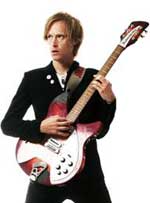 Dennis Lyxen, frontman of Refused, The (International) Noise Conspiracy and The Lost Patrol has written a brief update on his plans for the coming months.
He began by addressing Refused fans:

So, there is something really abstract about thousands and thousands of people being into somthing that I did years and years ago. Although we all move on in life I would like to thank you all for being my friends and for being into the music and the ideas, means a lot.
He goes on to announce that his project The Lost Patrol Band will soon be releasing their sophomore full length and follow up to 2005's The Lost Patrol Band. Titled Automatic, the record is due out October 16th in Europe and some new material is available on the band's myspace page.
Lyxen has also launched his own label, Ny VÃ¥g which will release the vinyl for the record as well as host a new podcast which promises "old and new punk / powerpop and Hardcore music."
Finally, he adds that he and his former Refused bandmate David Sandström may soon be collaborating on a new project with more details on that expected soon.
Refused recently issued their posthumous DVD, Refused Are Fucking Dead.
In addition, Denis and his Noise Conspiracy bandmate Inge recently recorded a short video interview with Blender magazine. You can check that out here.