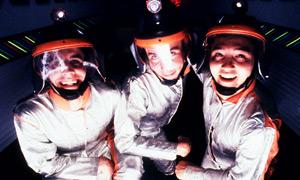 A San Diego judge has ruled in favour of pop-punk trio Supernova in their court case against CBS. The network is currently wrapping up an incarnation of their Rock Star reality TV program, the winner of which is due to front a band called Supernova comprised of Motley Crue drummer Tommy Lee, Voivod / ex-Metallica bassist Jason Newsted and former Guns N' Roses guitarist Gilby Clarke. Canadian Lukas Rossi was revealed as the winner on tonight's broadcast, and will front the group on an upcoming album and North American tour.
On Tuesday Judge John Houston ruled that the show's producers will have to find a different name for the group, as the original Supernova (bassist Art Mitchell, drummer Dave Collins and guitarist Jodey Lawrence) own the rights to the name. The band filed for a preliminary injunction against CBS, Mark Burnett Productions and the three musicians last month to stop the TV act from performing or recording under the name "Supernova." Lee, Newsted and Clarke were later dropped as defendants.
The Judge agreed with the originals' case, stating that "the marks are identical, the parties operate in very similar or identical markets, the Supernova is distinctive and therefore strong, and there is evidence of actual confusion in the market." Moreso he validated fears that the "defendants access to [a] large amount of monetary and promotional resources will effectively diminish, if not eliminate, [the original Supernova's] commercial presence in the marketplace." The band's attorney John Mizhir, Jr. commented "This is sweet justice. The order also proves that the law does not discriminate. The band members have worked hard for the past 17 years to establish the name Supernova and they are entitled to continue to perform without any other parties -- large or small -- infringing on their rights." Supernova formed in 1989 in Costa Mesa, California and released their first record, Ages Three and Up on Atlantic followed by dates on the Warped Tour in 1995 and 1999 and a tours with Buzzcocks, the Aquabats and others. The band also recorded the famous track "Chewbacca" for the soundtrack of Kevin Smith's Clerks.
The original Supernova must now post bond (of a currently undetermined amount) for the injunction to take effect.