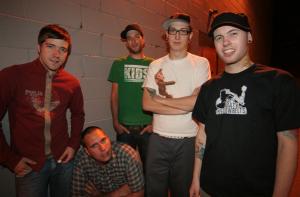 P-Fresh recently had a chance to speak with Canadian melodic hardcore act Daggermouth for AMP Magazine.
The band recently re-released Stallone via State of Mind and are gearing up for the release of the follow up, Turf Wars which is due out next year.
Let's start this off the traditional way; what's your name, and what do you do in the band?
I'm Kenny and I play guitar in DAGGERMOUTH.
How did DAGGERMOUTH end up coming together? What bands were members in previously?
Basically, Stu, Jarod, Nick and I all grew up in the punk scene. Like, we all have been seeing shows since we were kids. Stu played in a screamo, kind of swoop hair band, called END THIS WEEK WITH KNIVES, and after they broke up, he kind of wanted to start a band that was melodic and fast. He's a big JAWBREAKER and KID DYNAMITE fan and there weren't any bands in Vancouver playing that kind of music at the time. He just started getting people together. He went out, rounding up people he thought he would have fun playing with. Stu and I are the only two original dudes left. Initially, we had a different singer, drummer, and bass player, but as things got more serious, people came and went. Nick joined on vocals a few months after the formation of the band. After our first tour, our bass player left, and Jarod joined. Recently, we parted ways with our drummer JJ, and have since enlisted the manbeast known as Dan Don to drum for us.
So you guys self-released a demo EP, Behold The Might, in 2004, right? Following that was Stallone in 2005, and that was on fledgling label, Feeding Frenzy records?
Yeah.
Did the band take the songs to an outside source to be recorded, or, up to this point, is that been something you've done yourselves? I know Stu, your guitar player, has done some production work…
Yeah, we try to do as much stuff on our own as we can. When it comes to recording, it's just comfortable to record with Stu. He works at a rad studio in Vancouver called The Hive. Recently, he's worked with some sweet bands like BETRAYED and GO IT ALONE. Plus, if we fuck up and it's in front of Stu, it's no big deal. I would get all nervous if I was messing up in front of GGGarth or something.
Daggermouth recently signed on to work with State Of Mind Recordings. How did working with them come about?
They just got a hold of us in February via the Myspace page and said they were interested in working with us. A few emails and phone calls later and whammy, we're on State Of Mind!
State Of Mind has been an important stepping stone in the scene for a few bands, namely THIS IS HELL, who went on to sign with Trustkill Records, and also DEAD HEARTS, who are now on Ferret Records. Do you think that this will be a big step for the band? A chance to spread the word to more people than you could have, previously, on your own?
I hope so! It seems like every band on State Of Mind does really well. I know that Dave and James both work really hard for the label and for the bands. They just signed on with The Lumberjack Mordam Music Group, so hopefully our records will be in stores so kids can go get them and stuff. But yeah, we're really excited about working with them. They've been nothing but rad to us. Totally gnarly dudes!
That's great to hear! You've got a new record, Turf War, that you're working on. How are things with that going? Are you guys still writing stuff, or have you moved on to pre-production?
We're almost done writing the whole record. We did pre-production on half of the songs a month ago when Stu had some free time in the studio. I think we're going to finish up with some loose ends and we should be all ready to start recording at the beginning of September.

The singer of NICKELBACK was recently charged with driving under the influence. We wrote his record label and informed them that we thought it was whack. Things kind of got out of hand and we ended up getting our Myspace page erased. Over our next few tours, we're giving a dollar from every shirt and cd sold to Mothers Against Drunk Driving.
What can we expect to hear on the record? Is there anything you've been listening to lately that has really influenced you, or the band?
The new record is going to be fast and poppy. We all love bands like LIFETIME, SHOOK ONES, and GO IT ALONE. Stu writes a lot of the music and he's super into stuff like Botch too, so he always tries to throw in little weird things. Just think fast and poppy, with a twist, I guess.
Recently the band took a stand against drunk driving, and it ended up costing you your Myspace page? Can you elaborate on that?
Hahaha, yeah. The singer of NICKELBACK was recently charged with driving under the influence. We wrote his record label and informed them that we thought it was whack. Things kind of got out of hand and we ended up getting our Myspace page erased. Over our next few tours, we're giving a dollar from every shirt and cd sold to Mothers Against Drunk Driving.
It's really great that you're taking a stand and donating like you are. It's nice to know Daggermouth stands behind their words and beliefs. I'd like to change things up a little bit, and throw some short answer questions at you.
Ok, shoot.
What 3 bands would you most like to have accompany you on a package tour?
I would love to tour with FINAL FIGHT, SHOOK ONES and CRIME IN STEREO; all three of those bands rule! The new CRIME IN STEREO album is amazing, the new SHOOK ONES, from what I've heard, is amazing, and the new FINAL FIGHTS songs from their split with LIFELONG TRAGEDY are some of the best songs I've heard in a while.
What up-and-coming bands are you really into right now?
I'm stoked on BROADWAY CALLS. They sound kind of like THE LAWRENCE ARMS! They also have a CD coming out on State of Mind. We just got off tour with a band from Vancouver called LIVING WITH LIONS. They're friends of ours and they're so good for a bunch of young kids!
Favorite place to play?
We love playing around LA. Every time we're down there the shows are always so much fun to play.
You recently did a mini tour in Canada, where the band is from, but oddly enough, you're not very well known. How was the reaction at shows?
The shows were really good. Like any tour, there were a few weak shows, but overall, 90 percent of the shows were sweet. I was surprised at how many kids were singing along and stuff. We're going to start heading out more across Canada soon. Plus it's nice not to deal with your border people!
Within hardcore, there has been a major surge of new bands taking a different approach to melodic hardcore. There seems to be more of a pop-punk influenced sound in some of these bands. On State Of Mind alone, there is BROADWAY CALLS, DAGGERMOUTH, and DEATH IS NOT GLAMOROUS. How do you feel about it, and what do you think is the reason for this sudden surge of pop-punk influenced melodic hardcore?
I don't really know. I always just liked bands like GOOD RIDDANCE and LIFETIME and stuff. I'm always a sucker for melody. I think people just want fun poppy music again.
Looking a bit further into the future, once Turf War is wrapped up and done, what does the long term touring plan for Daggermouth look like? Will the East Coast finally get to experience what Daggermouth has to offer?
Yeah, in October we're going across Canada, and in January we're going all across the U.S. with Final Fight. We've been meaning to hit the East Coast, but something always seems to pop up and stop us from doing it. In the New Year we want to be on the road as much as we can, so hopefully the east coast will see a lot of us!
What could happen to Daggermouth in the last half of 2006 to make it a banner year for the band?
Hopefully, we can get the air conditioning fixed in our van. Hopefully, I can keep my mouth shut so cock rocker bands won't get our Myspace erased. Hopefully, recording the record goes well and it becomes this decade's Nevermind! Haha!
Finally, any bands, zines, or websites you want to throw some hype out for?
At Both Ends is a sweet zine from Vancouver that everyone should check out. The guy that does it is awesome. It's available through RevHQ I think. Also, everyone should listen to Final Fight!
(Source: http://www.detrimentalpictures.com/daggermouth.htm [promo photos])