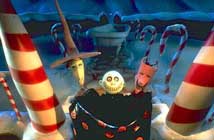 Four interpretations of Danny Elfman's beloved Nightmare Before Christmas compositions have posted on the official myspace page for the 3D "reissue" of the film. The selections include covers performed by Fall Out Boy, She Wants Revenge, Marilyn Manson and Fiona Apple.
Originally released in 1993, the film, directed by Henry Selick, used stop-motion animation and computer effects as well as original music. This fall, the film is scheduled to hit theatres for a second run, only this time featuring 3D effects (glasses, not computer graphics).
To coincide with the re-release, a new double disc soundtrack featuring covers of Danny Elfman's classic songs will be issued.
While not massively successful in its original run, the film eventually garnered a huge following through DVD, particularly popular among the goth crowd due to its macabre imagery and black humour. The recent film, Corpse Bride was creator Tim Burton's second foray into the medium.
You can check out the song, as well as the trailer and also "befriend the movie" via their myspace page.