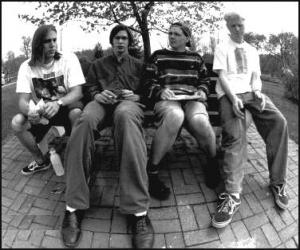 Melodic punk outfit Weston has informed us that the band will be reuniting for an exclusive tour of the North East.
The dates represent the band first reunion since breaking up six years ago. Individual dates will feature the band performing with Bouncing Souls, Latex Generation, Sticks & Stones, and more. Drummer Jeremiah Attanasio adds:

We wanted to give our fans another chance to experience what made Weston so much fun. There are a lot of people who have told us over the years how much they miss our live performances. Some have said that they've never had a chance to even see us play live
In New Jersey, Weston will be joined by longtime friends and former tour-mates, The Bouncing Souls (fresh off their 'Gold' tour) at Atlantic City's legendary House of Blues on Friday, December 29th. Next, the group will be headlining a show with support from former NJ contemporaries, Sticks & Stones (feat. members of World Inferno Friendship Society and Johnny X and the Conspiracy), as well as 'old-skool' New York pop-punkers Latex Generation (who will be performing live for the first time in nearly 8 years themselves) on Saturday, December 30th at New York's premier, new live music venue, Rebel (251 West 30th St., NY, NY). Finally, the band returns home to Lehigh Valley, PA to ring in the new year with their fans and friends at the Allentown Fairground's Agroplex on Sunday, Dec 31st, 2006. Joining Weston again will be Latex Generation, as well as local Pennsylvania group Grieving Eucalyptus, and more special guests.
For more general information, please visit Myspace.com/theReunionShows and PunkReunion.com.