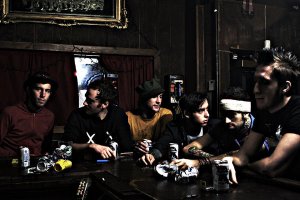 The Blackout Pact have announced via MySpace that they've broken up:

First off we want to apologize again for the last string of cancelled dates, both on the Silverstein tour and after. Here's what's going on now. The short version of it, is that there were some actions and behavior that took place on this last tour that was completely unacceptable and we feel that it would be best to just pull the plug on this thing. We had what we feel was a great run, we made a lot great friends on the road and would like to just remember it that way before things get worse internally. A huge thank you and apology goes out to all the guys in Silverstein, Aiden, It Dies Today and Scary Kids. You guys were amazing.and we were very happy to be part of that tour, no matter how long it lasted. I'd really like to make a list of all the people and bands that have helped us out or just showed us a good time over the last 3+ years but I wouldn't even know where to start. You know who you are and we love you. We'll continue to update this page with anything any of us get ourselves involved with post TBOP, so keep an eye out. Thank you all for the years of support.
The band released Hello Sailor last year through Astro Magnetics.