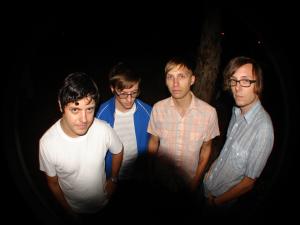 We recently had a chance to check with Bullet Train To Vegas's Dan Sena to find out what the band is up to.
A great deal has happened over the past few months, including the band's departure from Nitro Records who released their full length, We Put Scissors Where Our Mouths Are. Sena told me a little about that, as well as their future plans including recording, touring and more.
What have you guys been up to lately?
Well we've been spending a better part of the year touring the country. We did the west coast in March with Read Yellow and Haram. That was lots of fun. I really enjoy the northwest, especially Seattle. We have a bunch of friends up there, so we always make it a point to see and do as much as we can while in town. We did the east coast in April and met up with the Lovekill, Nakatomi Plaza and Heist at Hand for select dates. And then we went out for the month of July on a US tour(minus the northwest).
The first half of the tour was with The Blackout Pact and the second half with The Cardinal Sin and Fire When Ready(who at the time were in the process of breaking up). We have noticed this year that on these tours there have been a number of kids coming specifically to see us. In the past we would be lucky enough to have someone come up to us after a show and tell us how much they liked us.
There were several times we heard from kids who drove from 2 hours away to come see the show. It's a slow process but its definitely validates that we're on the right track and we just have to keep doing what were doing. Needless to say we've been keeping busy at our own pace.
What is the label situation like right now?
Right now we are currently free agents. Things really didn't go as planned with Nitro and there was a mutual agreement to leave and go elsewhere. The split was amicable. We have been in touch with a few labels that are interested. But I think right now we're more concerned about finishing our second album and focusing on our next step as a band.
You guys were kind of the odd band out on Nitro; even though the roster is very strong if you ask me, your brand of DC post-punk is quite different than the more traditional California brand that Nitro does.
That was one reason which prompted our decision to start looking elsewhere. When we signed with Nitro, they really wanted to become a label that puts out music they like (similar to what Epitaph and EVR have been doing). It was their ambition to expand and grow as a label that made it attractive. Not to mention the staff were all great people. As the year progressed a number of people left(basically the ones that were really pulling for us) and we were kind of left as this band they didn't know what to do with.
They have since decided they wanted to go back to what they do best and that is being a pop punk label. We appreciate everything they did for us. I think without them we wouldn't be where we are now. Functioning as a band is certainly easier now than it was 2 years ago.
As for as a follow up to Scissors; how is that coming along?
The writing for the new record is coming along great. I think having new songs and completing a new album as our next objective has certainly reinvigorated us as a band. We're all very excited about the new work and have actually been playing a lot of it live. I think this time around I'm really spending more time on how the songs are structured and how they feel as opposed to how complicated and jagged something sounds. I'm really trying to construct an album with stand out songs that work together rather than having a record that just has a bunch of songs. Cohesion is a primary focus on this next one.
I've been going back and listening to a lot of Jesus Lizard and Afghan Whigs lately. Both bands were very different, but what's apparent when you listen to them is that intense feeling that comes across in the music. What's so successful about The Jesus Lizard is all the band members working together to create that intensity. It's almost as if David Yow is ready to crawl out of the speakers and strangle you with his mic chord. Oh and back to the record, we should be recording it with Alex Newport at the end of the year or in January of 07.