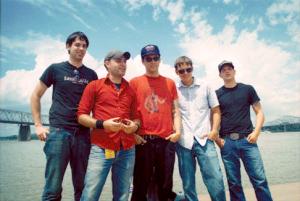 The Jazz June have announced the details for their previously announced reunion show in Philadelphia set for early next year. The band originally formed in 1996 and released a number of records including 2001's They Love Those Who Make The Music and their final record, 2002's Better Off Without Air.
The band is reuniting to perform a benefit for a friend who has been diagnosed with cancer. The show will be held in Philadelphia on Saturday, January 13, 2007 at the North Star Bar. Tickets will be on sale soon at the venue's website . Friends in a band called the New Bruises will be opening and the rest of the bill has yet to be filled.
You can check out an interview with the band, as performed by our friends at the defunct Punkrocks.net, right here.