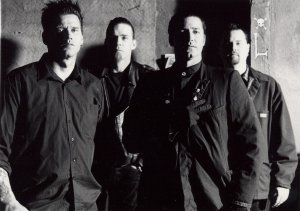 Long running Los Angeles based punk act T.S.O.L. has called it quits. Last night the band wrapped up their second of two farewell shows at the Vault in Long Beach, where they played alongside bands like D.I., the Smut Peddlers, Narcoleptic Youth and Manic Hispanic. Guitarist Ron Emory and bassist Mike Roche are leaving California for Nevada and Iowa respectively. There's no word yet on what the future holds for frontman Jack Grisham.
The band had fallen on difficult times in recent years due to a shooting that occurred while they were on stage in Hollywood in 2002. While T.S.O.L. was cleared in the court case they were left with a daunting bill from the attorney that prevented them from widespread touring. That period also resulted in the band's last album Divided We Stand.
T.S.O.L.'s 1981 gothic punk debut Dance With Me was recently reissued by Nitro Records. A retrospective release titled Who's Screwin' Who? surfaced last year.