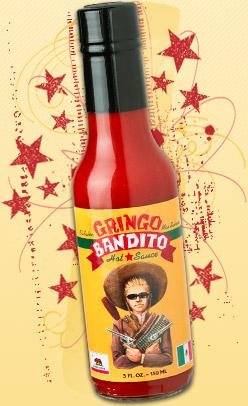 Offspring frontman Dexter Holland has spiced up his life by creating a new brand of hot sauce called "Gringo Bandito". Dexter provided the following statement regarding his sauce:

I hope you enjoy the adventurous flavor and tingling tantalization of my not-so-famous pepper sauce. For over two years I have searched far and wide for the perfect combination of spices to make your next dining experience a zinger. And I tried to make it easy on the pooper, too. Try it on tacos, burritos, eggs, pizza - it's like a party in your mouth. I personally guarantee it.
To find out how to order, or for recipe ideas such as ghetto pizza, the Anarchy Burger or Rick's Prison Spread, head over to Gringo Bandito website.
"Damn that shit is hot yo!"
Noodles, The Offspring
"I actually fuckin' like it."
Fat Mike, NOFX
"It spices up a government cheese sandwich."
Warren Fitzgerald, The Vandals
"I've had alot of amazing things in my mouth and this is amazinger than just about everything."
Jason Blackball
"Damn that's fuckin' good shit."
Wil Francis, Aiden
"The Kids Aren't Alright but Gringo Bandito is tight"
Rick Thorne, warped BMX'er
"Gringo Bandito drops more mad flavor than Flavor Flav."
The Aquabats
"A complex, earthy taste combined with the fundamental element of heat to form a rare morsel of delight."
No Trigger
"It's like the meth trailers in Riverside started cooking up hot sauce. Highly addictive."
A Wilhelm Scream
"It's so good I almost thought I would shit my pants, then I realized I already did."
Buddy, Less Than Jake
"It's like a mosh pit in your mouth, a riot of fiery flavors and spine tingling spices. Viva Gringo!"
Blag Dahlia, The Dwarves
"It separates - I guess you gotta keep it separated then shake it up… it's good."
Kevin Lyman, Warped Tour Boss
"That shit's pretty fly for a white guy."
El Hefe, NOFX
"My Gringo Bandito can beat up your hot sauce."
Much The Same
"Gringo Bandito keeps my party hand steady."
The Ricker