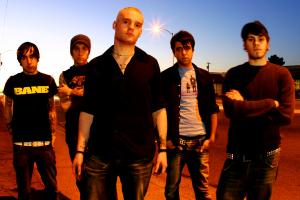 Boys Night Out have announced plans to release a new digital-only EP, 50 Million People Can't Be Wrong. The disc is due out via Ferret Music/iTunes/Rhapsody on February 6th and the band promises a price "under five dollars."
The EP will contain two brand new, never before heard songs, and 3 re-recorded tracks from their 2002 EP Broken Bones and Bloody Kisses: "The Only Honest Love Song," "Sketch Artist Composite," and "Victor Versus the Victim."
Re-recording the songs was something that the band always wanted to do, says guitarist and songwriter Jeff Davis:

"We never really liked the recording of the Broken Bones and Bloody Kisses EP because it was really rushed, and we wanted to give the songs the potential they deserve. We decided to rework the songs, adding some new stuff, some electronics, changing the vocals and new fancy guitar work. The rest will be a surprise!"
The band has also announced that their next full length, and follow up to 2005's acclaimed Trainwreck will be self-titled and work has already begun in writing the record. The band will be working with producer Lou Giordano (Taking Back Sunday, Ataris, Samiam, Paul Westerberg, Sunny Day Real Estate).
Finally, the new digital EP represents the recorded debut of guitarist Andy Lewis, who was formerly the drummer in Burlington, Ontario's The Fullblast.