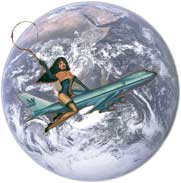 According to this recent article, punk icons NOFX will be making a documentary of an upcoming tour with scheduled stops in Taiwan, Russia, Israel and South Africa. Lead singer/Fat Wreck Chords head-honcho Fat Mike had the following to say about it:

2007 for NOFX is playing countries we've never been to, we are planning on playing Taiwan, we got permission to play Beijing and we're doing Russia, Israel and South Africa. We're bringing a film crew and we're actually making some kind of documentary about all the weird places we're going to.
The band has been fairly busy this past year, with touring and plans for additional tours in the new year, supporting last year's release Wolves in Wolves Clothing.