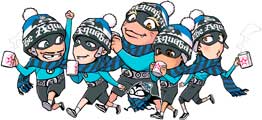 Punk rock superheroes The Aquabats have decided something, but it might be best to let them explain it:
The band spent the NEW YEAR in a heated debate! The question as to whether or not we, the Aquabats should continue to be the best band in the world or if we should relinquish our title to hot teen sensations, 'The Panic! At the Discos.' It was a grueling battle, as the Debate raged on for hours, even coming to physical violence at times.

Finally, it was decided that we must, for the sake of the good people of the Earth, remain the greatest band of all time..forever…that will never play in a stadium… or have a 'Buzz worthy' video on TRL.
The band will performing on January 27th, 2007 at the Glasshouse in Ponoma, CA and promise to perform Charge!! in it's entirety as well as "a couple of other songs in at the end so people don't cry."