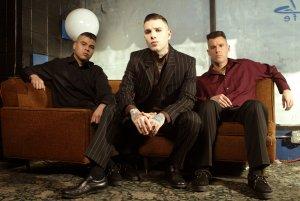 Tiger Army has wrapped up the recording process of their new album. Frontman and musical anchor for the band Nick 13 updated the band's MySpace with some details:

The first mix is already done - for a song called "Where the Moss Slowly Grows." On this album, once again we were lucky enough to have the incredible talent of Greg Leisz on the pedal steel guitar. While he's played with many artists more widely known than we, Tiger Army fans will recognize his name & playing from the songs "Outlaw Heart," "In the Orchard" and "The Long Road." That's something we're asked before every record - "Will there be a song in the style of "Outlaw Heart" or "In the Orchard?" The answer, and you heard it here first, is "Yes, there is."
The album will also include guest appearances by friends like Davey Havok of AFI, longtime Morrissey co-songwriter Alain Whyte, Brandan Schieppati of Bleeding Through, Dan Smith of The Dear & Departed and more.
The band is working with producer Jerry Finn on their followup to III: Ghost Tigers Rise, which has been titled Music From Regions Beyond. The band is aiming for a June 5th release date, which happens to be Nick's mother's birthday.
The band will be seen on this year's Warped Tour.