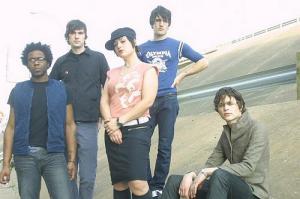 Pretty Girls Make Graves are calling it quits. A statement on their website made the announcement:

We are sorry to announce that our upcoming tour in May will be our last. Nick [Dewitt] quit the band and the rest of us feel like it wouldn't be right to continue on without him. The 5 of us feel very lucky to have met and worked with some truly amazing people over the years. Thank you all so much…
The band formed in 2001 from members of the Murder City Devils, Kill Sadie, and Death Wish Kids. The group released a self-titled EP on Dim Mak, followed by Good Health their debut full length for Lookout! Records. The band signed to Matador in 2003, releasing two albums for the prominent indie label, The New Romance in 2003 and Elan Vital last year.
Dates for the May tour have not yet been announced.