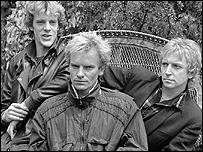 Just a few weeks after rumours began to spread, confirmation has come in that the Police will reunite this year for the Grammys in an event that will mark their 30th Anniversary.
This would be the first Police tour since the band broke up in Melbourne, Australia in 1984. The band consists of pop-sensation Sting on bass and vocals, Andy Summers on guitar and Stewart Copeland on drums. They last performed together in celebration of their 2003 induction into the Rock and Roll Hall of Fame.
The trio, who won five Grammys in their 1980s prime, join a live performance line-up that already includes Justin Timberlake, Beyoncé, Mary J. Blige, and the Red Hot Chili Peppers.