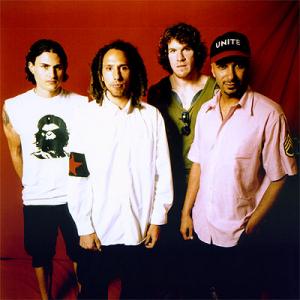 Tom Morello recently discussed the highly publicized reunion from Rage Against The Machine with MTV. The band played the main stage at the first Coachella in 1999 and will perform this year alongside Red Hot Chili Peppers, Björk, Interpol, the Decemberists, Sonic Youth and many more.
First, Morello explained why Coachella and why now?

Is it coincidence that in the seven years that Rage Against the Machine has been away that the country has slid into right-wing purgatory? I think not, It occurred to all of us that the times were right to see if we can knock the Bush administration out in one fell swoop, and we hope to do that job well. This administration has done enough damage that it may take generations to undo. This is an administration that believes it's beyond the laws of the land, which is fine for emperors, but not so great for presidents. One thing this president isn't above is the laws of physics, and there is no action without reaction.
Besides that, Tom did not rule out the possibility of future performances the band. Considering the wild effect festivals have had on everyone from 108 to Lifetime to the Pixies, one can only speculate.
Morello cofounded the band with former Inside Out vocalist Zach de la Rocha. They split up in 2000 and their final release was the posthumous live recording, Live At The Grand Olympic Auditorium.