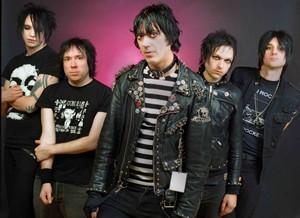 The Black Halos have signed to History Music, a new independent based in Vancouver, British Columbia. The band plans to hit the studio immediately with producer Jack Endino (Nirvana, Soundgarden) to record their fourth full length.
History Music was formed by Halos drummer Rob Zgaljic and the band's manager Danny Cameo. A distribution deal has been established with Ontario's Sonic Unyon. Following the album's release the venture plans to sign other bands.
The Black Halos released Alive Without Control in late 2005 via Century Media / Liquor & Poker, and prior to that worked with legendary Seattle indie SubPop.