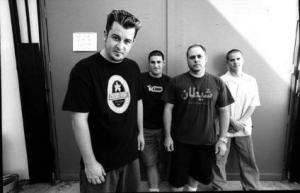 No Use For A Name has announced plans to release a new "Best Of" album in May or June. The veteran punk act is promising: "comments from the band on each song, tons of archive photos, posters, passes, and fliers and stories from moms, tour manager."
They plan to follow that with both a new DVD and a new full length record. Also in the works are a trip to South America in August. The band released their last album, Keep Them Confused, in 2005.
2007 marks the 20th anniversary of their first released song. The song "Gang Way" appeared on Maximum RocknRoll's Turn It Around released 20 years ago in 1987.