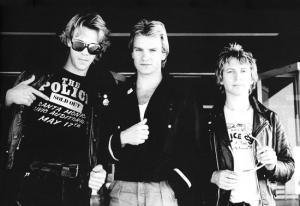 As expected, The Police have announced plans for a tour. The news comes the day after their highly anticipated reunion at the Grammy awards.
While the full schedule has not been announced, the Police will embark on their first tour in 23 years, beginning May 28th at the GM Arena in Vancouver, BC. The band will also headline the June 16 date of the Bonnaroo festival in Manchester, Tennessee.
The plan is for the Police to tour North America through the first week of August, then play the U.K. and Europe, returning to North America in late October. The rest of the world will follow with visits to Mexico, South America, Japan and possibly Australia and New Zealand through the end of the year. About 80 shows are currently on the books, including 24 cities in North America.
Frontman Sting explained:

I woke up one morning, it was about three months ago," he recalled. "This light bulb went off in my head: I'm going to call Andy and Stewart and tell them we should do a tour. I thought, well, it will surprise them. It will surprise the world, and it's surprising me too. It's very healing. It's a part of my life I've sort of run away from for 25 years. We're still fighting. We're still arguing about the music. (But) we have ways of navigating now that we didn't have before.
The group is apparently planning to focus entirely on Police-era recordings, with none of Sting's solo material to be performed on the tour.
MTV spoke with a number of musicians including Fall Out Boy's vocalist Patrick Stump, who explained:

It's one of those things that you definitely set the alarm for. They were a group of essentially jazz musicians who weren't snooty about pop music and I think that brought something amazing to pop music. Sort of like how Bad Brains invented hardcore on accident because they were too good."
Only a handful of dates are available now, you can click Read More for those.
| | | |
| --- | --- | --- |
| May 28, 2007 | Vancouver, BC | GM Place |
| June 6, 2007 | Seattle, WA | Key Arena |
| June 9, 2007 | Denver, CO | Pepsi Center |
| June 15, 2007 | Las Vegas, NV | MGM Grand Garden |
| June 16, 2007 | Manchester, TN | Bonnaroo Music & Arts Festival |
| June 18, 2007 | Phoenix, AZ | U.S. Airways Center |
| June 26, 2007 | Dallas, TX | American Airlines Center |
| June 30, 2007 | New Orleans, LA | New Orleans Arena |
| July 2, 2007 | St. Louis, MO | Scottrade Center |
| July 22, 2007 | Toronto, ON | Air Canada Centre |
| July 25, 2007 | Montreal, QC | Bell Centre |
| July 28, 2007 | Boston, MA | Fenway Park |
| August 1, 2007 | New York, NY | Madison Square Garden |
| August 3, 2007 | New York, NY | Madison Square Garden |