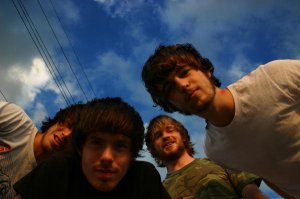 Vagrant act Emanuel entered the studio on February 1st to begin recording their sophomore album entitled Black Earth Tiger. The album is being recorded with famed producer Terry Date (Soundgarden, Deftones, Pantera, White Zombie, Smashing Pumpkins) at his Studio Litho in Seattle, WA.
As for the record itself, the band had this to say:

When we started writing the songs for Black Earth Tiger over a year ago we knew we wanted to make something different from Soundtrack To A Headrush. Writing STAHR had started so much for us but it had been done so long ago. It had died, and we knew this album had to be about endings. Black Earth Tiger is all about endings. I think there is, in the collective consciousness, this feeling that maybe the world is going to end. Its something I've been obsessing over for years, and Black Earth Tiger touches on that; but it also touches on the end of relationships, ideas, lives and eras.
The record will be the band's first since 2005's Soundtrack To A Headrush.