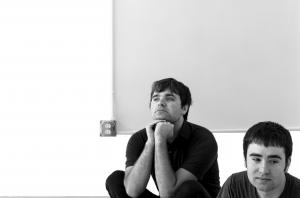 MTV recently spoke to Jimmy Tamborello, the electronics mastermind behind the Postal Service, about the group's upcoming LP and follow-up to 2003's acclaimed Give Up.
The last update from the duo came in June of 2006, and now, almost a year later, the band is about six songs in. The pace is understandable in light of vocalist Ben Gibbard's Death Cab for Cutie and Tamborello's other project Dntel.
According to Jimmy, they hope to have a new album out by the end of the year. But he was quick to add that -- at the moment -- said album "isn't nearly even 50 percent done." He adds:

If we don't make the deadline we set for ourselves, we can extend it. Sub Pop has never given us a deadline, and we're trying our best to make it in the same environment we made the first one: We have to keep reminding ourselves that we're doing it for fun and trying to keep things casual," he said. "And that's pretty difficult to do, to be honest. I have to keep reminding myself that it doesn't have to sound like a giant mainstream pop record just because the last one got to so many people. I have to remember how the last one sounded -- lo-fi and in my comfort level of production -- and I want to stay that way.