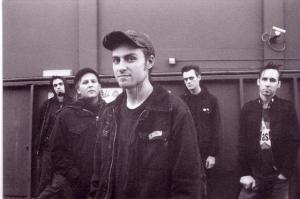 Today, we're pleased to bring you a full album stream of the new split featuring Leftover Crack and Citizen Fish. The disc is packaged with fifteen tracks, with seven proper songs from each band.
Deadline features material from the always controversial Leftover Crack and marks some of Citizen Fish's first new material since 2001. Citizen Fish recorded 5 original songs along with their cover of LoC's "Clear Channel Fuck Off" and Choking Victim's "Money". Leftover Crack contributed 6 new songs and 2 covers, one being a Subhumans song and the other being a CItizen Fish song. Special guests on the record include Jello Biafra and M.D.C.'s Dave Dictor.
You can and should check out the entire thing on either the Leftover Crack or Citizen Fish profiles.